Schedule Template
This feature is available in ShiftExec Pro.
ShiftExec provides a convenient and efficient way to quickly create shifts for your current date range. Schedule Template module lets you save sets of template shifts for day, week, or month range, then quickly load them when needed.
Create Template From Current Schedule
If you already have some shifts, the simplest way to create a schedule template is to use shifts from your current schedule.
Go to your Shifts page,

then click Save As Template

You can set the name of the template schedule, and optionally skip saving some shifts if not needed.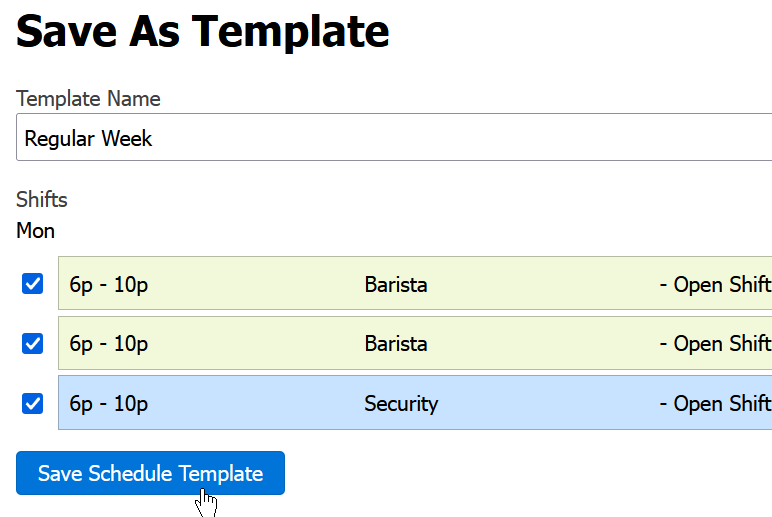 As you can see, you can even create multiple templates from the current schedule. For example, if you need separate templates for Barista and Security positions, you can either:
Filter Barista shifts, click Save As Template, save template. Filter Security shifts, click Save As Template, save another template with a different name.
Or don't filter shifts, click Save As Template then leave only Barista shifts checked, save template. Get back to Shifts, click Save As Template, leave only Security shifts, save another template.
Load Shifts From Template
Once you have a schedule template, you can start saving time in your shift creation and management process. For example, the next week starts. Go to Shifts, you'll see empty schedule. Click Load From Template.

You can choose a template relevant to your current schedule range (day / week / month). Also you'll need to choose what to do with potential new shifts that would produce conflicts if we did create those shifts. You can either skip such new shifts thus escaping conflicts. Or create new shifts anyway and address the conflicts later.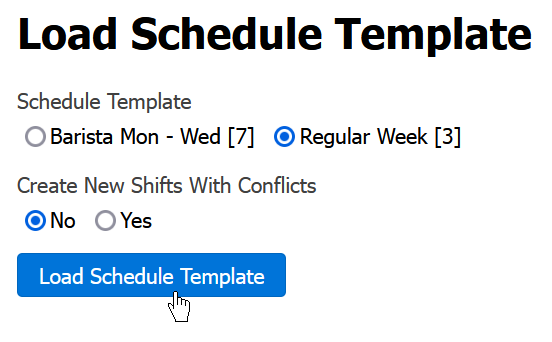 Submit the form and you'll instantly get your new schedule day/week/month filled with shifts!
Edit Schedule Template
Sometime you may need to adjust you existing schedule templates. Simply go to Settings » Schedule Templates.
You can rename, add or delete templates.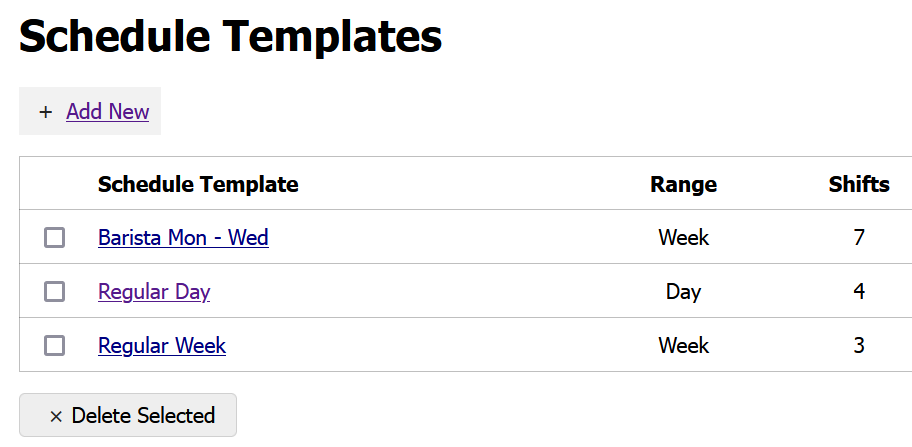 You can add or delete template shifts in schedule templates.